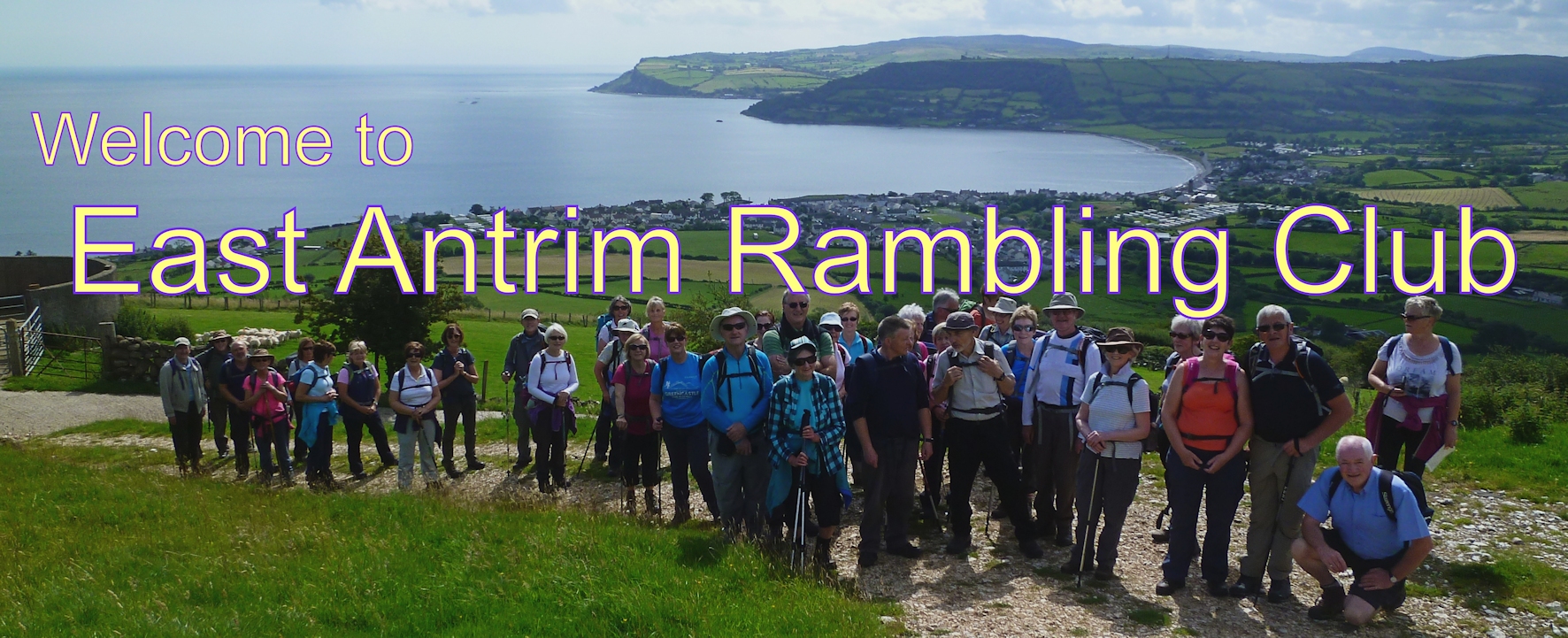 Current Sunday Programme         Current Wednesday Programme
Keep up to date at our Facebook page:-   https://www.facebook.com/EastAntrimRamblingClub
The East Antrim Rambling Club, founded in 1979, organises a programme of walks every Sunday throughout the year, Summer and Winter and on Wednesday evenings from April to September.  Wednesday morning walks proceed two or three times each month from September to March.
Find out about joining here
January - February 2019 - Sunday Walks
NB THERE IS NO WALK ON THE FIRST SUNDAY OF EACH MONTH – DECEMBER BEING THE EXCEPTION

DATE

WALK

IMP (interim meeting point)

WALK MEETING POINT (ordnance survey grid ref, OS sheet number)

DESCRIPTION

(distance, elevation if over 200 metres, nature of terrain, useful information)

13th January

Antrim Plateau

5 lakes in hills above  Carnlough

Sandyknowes Roundabout – hard shoulder on A6

9.30 am

Carnlough car park

(behind Spar)

D287182 Sheet 9

7 miles

380  metres

Rough terrain – boots and poles recommended

20th January

Antrim Plateau

Ballyboley  to Linford

A-B

Sandyknowes Roundabout – hard shoulder on A6

9.15 am

Linford car park on Sallagh Road near Cairncastle

D334074 Sheet 9

8 miles linear walk

Rough and muddy so boots and  poles needed

Only 2 people per car to Linford (B) in order to drive others to start of walk at Ballyboley (A)

27th January

Derry/Londonderry

 The three bridges

Meeting on Belfast – Londonderry train

9.10 am from Great Victoria Street

9.33 at Mossley West

Waterside Train Station

9 miles circular walk taking in Craigavon Bridge, Foyle Bridge, Peace Bridge and historic city centre.

Return train from Waterside station at 5.38 pm (Next and last train at 7.38 pm)

10th February

Belfast Hills

Carr's Glen, sculpture, Colinward, Cavehill summit, McArts fort

No IMP

Belfast Castle garden – at fountain

J575497 Sheet 21

6 miles

400 metres

Circular walk on paths and open hillside.  Can be rough and muddy so boots essential and poles recommended.

17th February

Peatland Park

near Dungannon (J13 (Loughgall on M1)

optional snowdrop viewing at The Argory for those who wish (NT membership card needed for this)

Junction 6 on M1

Car park on A49 (Saintfield) immediately on exiting motorway

9.45

Peatlands Park car park

H902605 Sheet 19

8 miles (further 1-2 miles at The Argory)

Tracks, boardwalks over bog, sometimes very wet so boots preferable

24th February

 Belfast Parks

No IMP

Botanic Train Station

Further details will be sent by email after Christmas.
January - February 2019 - Wednesday Walks

Date

Details of Walk

2nd
Jan

Hilden – Union Locks, Sprucefield. Meet Hilden NIR Station. 10:10 Train from GVS.arrives 10:27.

16th
Jan

Downpatrick: Mound of Down, River Quoile. Meet at the Down Museum at 10:45. (toilets, café for lunch afterwards, St Patrick's grave nearby.) Ulsterbus 15 from Europa Bus Centre @ 09:30 arrives Downpatrick 10:30.

30th
Jan

Cullybackey - Galgorm. Meet at Cullybackey NIR Station at 10:10. Train from GVS at 09:10, Central 09:20, Mossley West 09:33 arrives 10:08.

6th
Feb

House of Sport – Clement Wilson Park – Lagan Towpath – Stranmillis – Lagan Walkway – Central Station. Meet at House of Sport @ 10:30. (Metro 8b (Malone) bus to House of Sport – every 15 minutes from Bus Stop in Bradbury Place, or at bus start point in Donegall Square East). If travelling by train disembark at Botanic.

20th
Feb

Lurgan Park to Brownlow House. Meet at Lurgan NIR Station. 10:10 train from GVS arrives 10.51.  Return train times to GVS xx 21 and xx 51.
Programmes

Walk Reports

Links   (Updated 18.9.12)

E-mail Address:-

Day Walks

Evening Walks:-

Click on Signpost for Details
Click Here or on image above for Sunday Walks February – April 2016
Click Here for Mid-Week Walks - Oct 2015-March 2016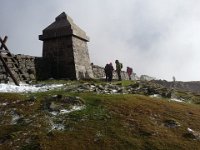 Click Here for Sunday Walks Nov 2015 – Jan 2016
Click Here for Commedagh November 2015
Click here for Glenariffe Walk 2015-11-01
Click here for Jenkin Forest & Lakes October 2015
Click here for Mallorca Holiday September 2015 Part 1
Click here for Mallorca Holiday September 2015 Part 2
Click here for Gerard's Mallorcan Odyssey
Click here for Mourne River in Spate 14th April 2013
Click here for Pictures from Sligo – Easter 2013
Click here for Pictures from Killynether Wood 10th November 2010
Click here for Pictures from Sliab Beagh 20th June 2010
Click here for Pictures from Slieve Donard 31st January 2010
Click on Thumbnail to see larger image